Children's age is the best period to develop their creativity and imagination. As their family, you sure want to provide the best support for their growth. A boring environment, especially the house, might get in your way to boost your children's imagination. These bedroom decor ideas for your kids are definitely worth trying to be one of the supports you can give! With various colors, shapes, and themes, the decor will entertain your kids and be their company all night long. Plus, it could be the memories that they carry growing up <3
Glow-in-the-dark wall stickers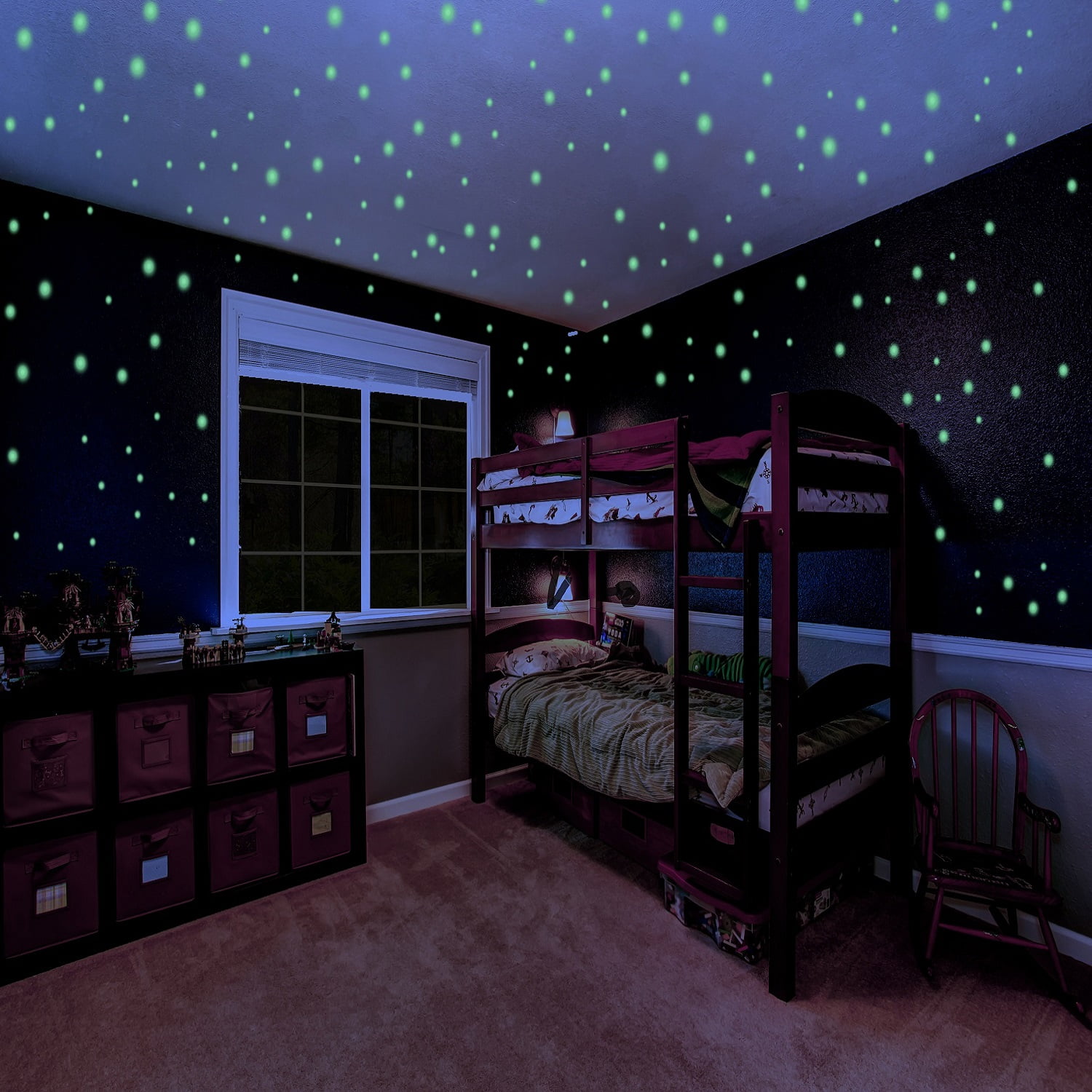 This one is often put on the ceiling with the shapes of stars. Imagine sleeping under the thousand stars that shine beautifully every night! Even we adults might still be fascinated looking at it. Moreover, it's good to train the children to sleep with the lights off.
They also come in some more shapes, such as planets and the universe, magical unicorns, and even animals from under the sea to the ancient dinasaurs.
'Wall of fame'
As its name, it's the wall where your kids' artworks are proudly hanged on! Take a look at this one inspo from Paul & Paula.
The kids surely love to draw, don't they? So why not turn their arts into some gallery instead! Besides, you could use this trick to distract your children from making art directly on your walls and get them dirty all over again 😉
Multifunctional teepee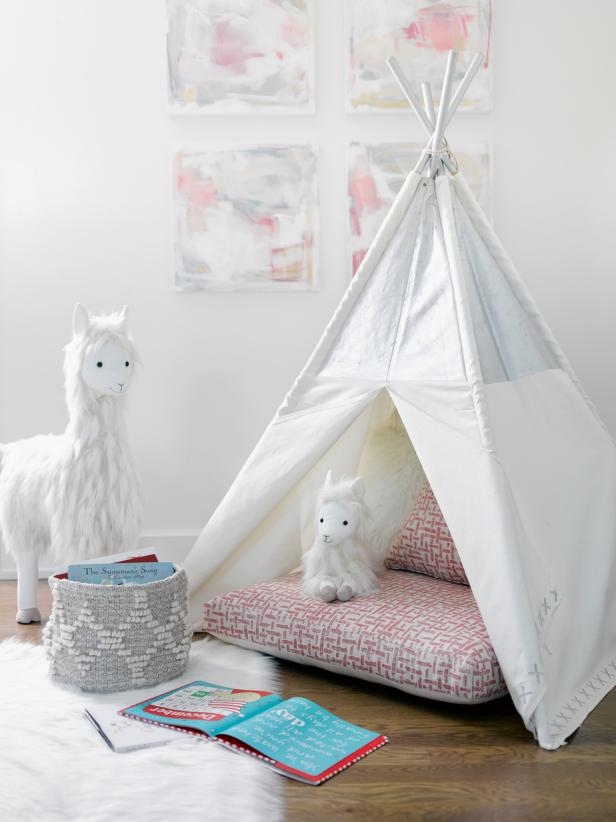 This idea by Clara MacLellan looks extremely comfy and adorable! She suggested it as a 'reading nook' to make children love reading. As we know, reading is important and it's good to start from a young age. Just put the teepee on, and add some of their favorite stuffed animals and plush cushions for extra comfort.
Teepee could also be a nap spot, playground, study ground, and many more. Aesthetically, it also pleases our sight.
Themed bedroom
A bedroom with some theme could never go wrong. The design is just exquisite and exciting both to play and sleep in. You can design and decor the kids' bedroom with their most favorite thing and turn it into a whole theme, as exampled in this picture. Looks like someone attempts to be the future pilot! 😆🛫
Easy and Geometric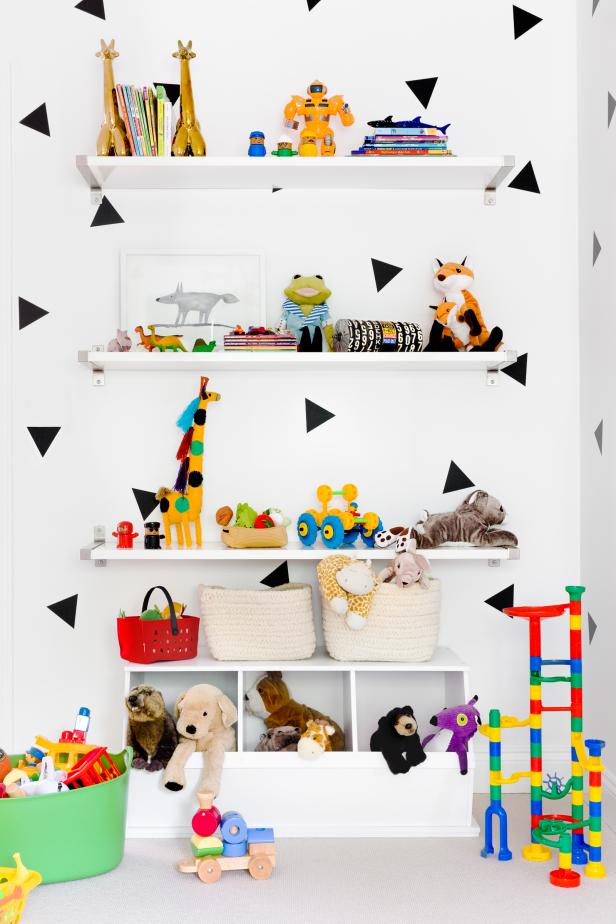 Another inspo from MacLellan, a minimalistic design of white walls and some tiny black triangles to give contrast. For sure, you can choose your own stencils or wall decals. To double the fun, put some floating shelves and decorate them with your children's collection: stuffed animals, books, figurines, and many more. This can also be an idea for quality time with your kids as you can design and put the collection together.
Minimal clutter
You can store the kids' props in their room in some cute and practical storage. This way your children would also learn how to tidy up their room.
Patterned stickers
Nothing goes wrong with the classic patterned wallpapers. The playful and unique patterns are surely pleased to see. You can design it according to the mood or vibes you want your children to feel in their bedroom.
Mounted plushies
Look familiar? Yes, those classic animal heads you might ever saw on the walls. I'm pretty sure the creator Sam Henderson was inspired by it too, lol. Anyway, you can use this cute idea of mounting stuffed animals for your kids' bedroom decor. Maybe turn it into a whole theme too, just like in this picture. Any other plushies you can think of to mount on your wall?
Now, have you chosen your favorite so far? Go ahead and give it a try! Also, this could be the perfect time to bond and team up with the kiddos 😄
Check out our other articles about bedroom ideas and study room inspos.
Also check these articles for more info about bedroom decor ideas for children:
15 Creative Kids' Room Decor Ideas 
50 Kids Room Decor Accessories