Your kitchen needs a makeover too! A new style may give you new vibes and make you more energized. With some ideas and creativity, it won't be as expensive as you thought it would be. Given that decorating kitchen needs extra effort here and there as there are so many furniture, appliances, and utensils needed. So here are some ideas for your kitchen decor and makeover on a budget.
Recycled wall rack
If you have some old bed slats or any pieces of unused plywood, don't throw them right away. Try to turn them into a wall rack for your storage solution. Just mount them to your wall, add some S-hooks for hanging bits and bobs, and you're all set. It is a really cost-effective way to add extra storage to a kitchen, also such an effortless idea for kitchen decor.
This is another idea for your DIY wall rack:
New color on the walls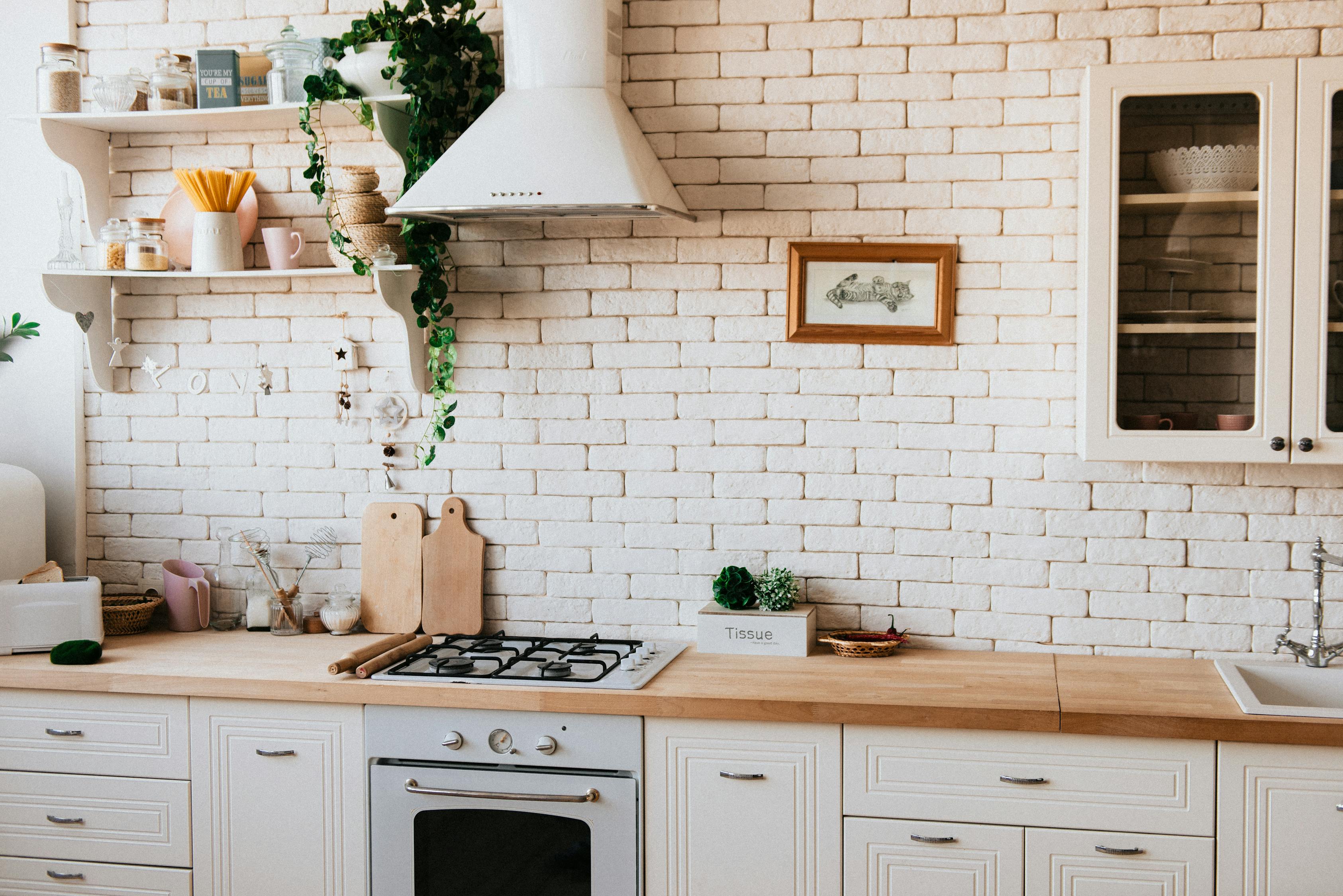 The walls also shape the overall impression of the kitchen. Invest in cheerful colors like navy blue, indigo, dark green, etc. Dare to play with two shades that combine with the new details of your kitchen and give it that touch you need. Besides paints, you can choose to use wallpapers or stickers. They come in various colors, shapes, patterns, and practical for any surface.
Another new color on the cabinets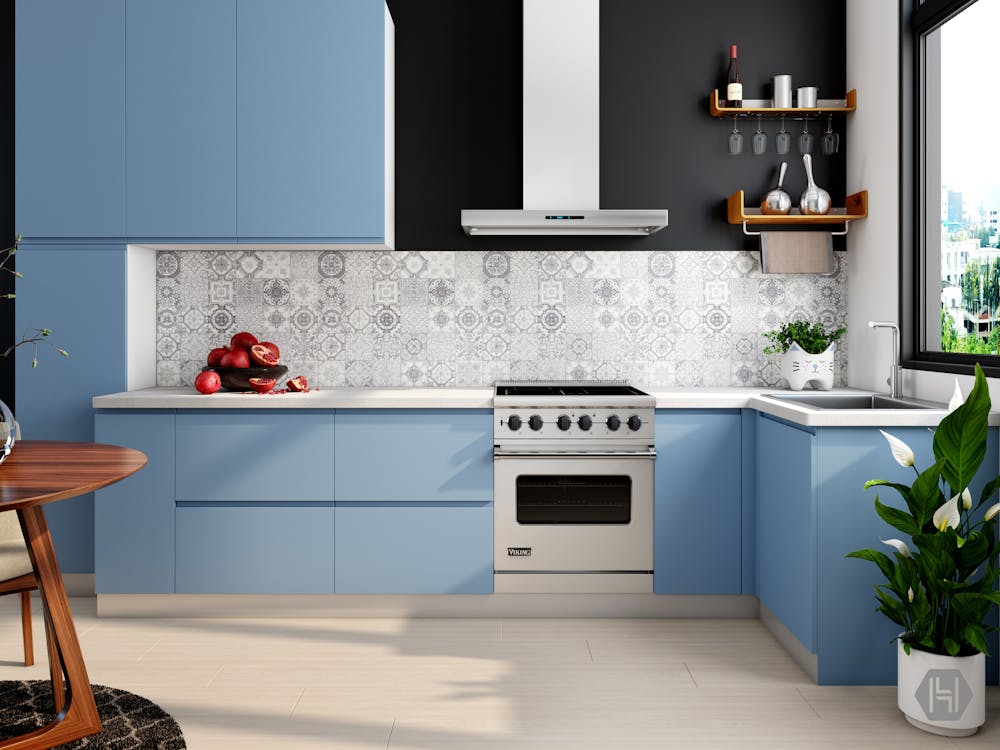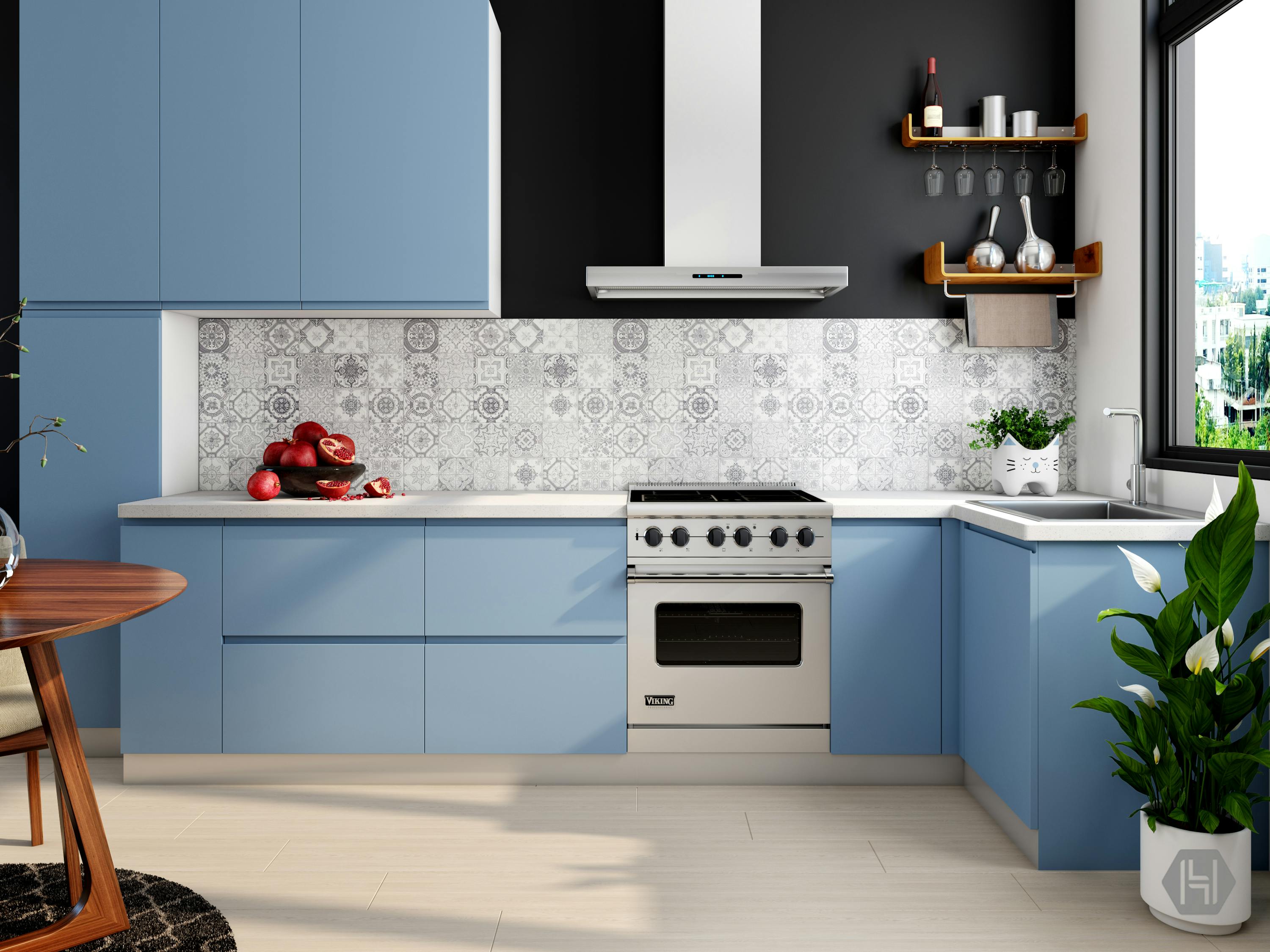 Painting your kitchen cabinets is one of the cheapest and easiest ways to create a fresh new look for your kitchen decor. It's better if you prime the cabinets before painting them, then choose whatever colors you like best. Try to play with your wall colors, combine or match them all you like!
Fridge makeover
Dare to be playful with your fridge door! Get crafty with a can of spray paint, or stick some leftover roll of wallpapers for a less permanent option. Another effortless idea for your kitchen decor, isn't it?
Re-arrange and re-order
Arrange everything and make sure the inside of the cabinets is in order. Cooking utensils are always ready to hand when hung on a wall bar, and uniform storage boxes convey a sense of calm. An organized and ordered kitchen will bring ease to your eyes and soul.
Reused bottles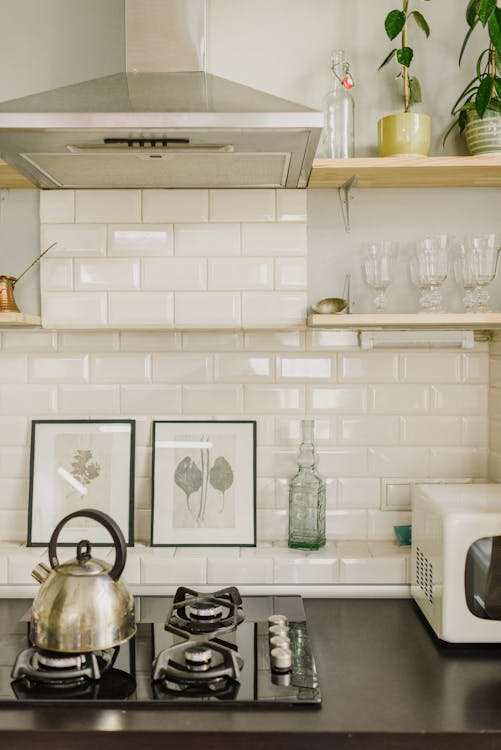 Another practical and even eco-friendly idea for your kitchen makeover is using items that normally go to waste and turn them into budget kitchen decors. Pots, bottles, and boards are some items that you can use. For example, turning an empty bottle of wine or juice glass into a unique vase, and fill it with some houseplants or flowers. It surely will beautify the corner of your kitchen table.
New statement appliances
New appliances can refresh your kitchen without changing any of the furniture. You'll just need to ensure that they will fit into the available space. Freestanding appliances can be replaced more easily – and can make a real impact if you go for something brightly colored as seen in the image. Besides, a new kettle or toaster will make a splash too, and won't cost the earth.
New fabrics
Another option to decorate your kitchen and spend little is to play with the fabrics. They can cover pots and bottles, transforming them into decorative items. Curtains can be your great option, especially when your cabinets or any shelves don't have doors. It's useful to conceal utensils displayed and cover up your shelves or crannies. Choose a fabric that emphasizes the theme of your kitchen and links with the colors of the walls and accessories – whether it's something muted or a bolder pattern.
Colorful wall arts
Put on some playful and colorful personality on your wall with some eye-catching art. For maximum effect, display against a cool white backdrop and bring in blasts of bold color with pop art and signage in a palette of primary shades that can be picked out in your accessories.
Extra lighting
Chandeliers and pendants are the perfect accessories to not only brighten your kitchen but change the mood of the space. To change or to add variations to your lighting, either way playing with the lighting is another inspo for your kitchen decor.
Have a blast decorating your brand new kitchen!
For more references, you can visit these pages below:
How to decorate kitchen on a budget
10 cheap ways to make your kitchen looks expensive
Also, visit us for more decor inspos:
23 Cream Kitchen Cabinet Ideas That Will Never Go Out of Style