Curtains are indeed a necessity for every house. They give a sense of privacy and security as nobody from outside could peek at the people inside the room. They also set the mood as they compliment the interior of the room. Therefore, it's important to choose the best curtains that suit your rooms and windows.
So, this is a quick guide on choosing the well-suited curtains for you by Laura Mueller and Gabrielle Savoie, writers and decor-interior enthusiasts.
Measure It Right
Firstly, you need to figure how long the curtains need to be. Usually, there are five standard curtain lengths: 63 inches, 84 inches, 95 inches, 108 inches, and 120 inches. The length depends on the height of your window and ceilings, and the look that you're trying to achieve. Curtain lengths are determined by measuring from the rod pocket—which is where your curtain hangs off the curtain rod—to the bottom of the fabric.
You can choose to hang them right above the window frame for a classic look, or just below the ceiling to make the taller illusion to your window. Usually, the curtains should hit right where the floor begins; however, you can also let them pool on the floor for a more romantic look.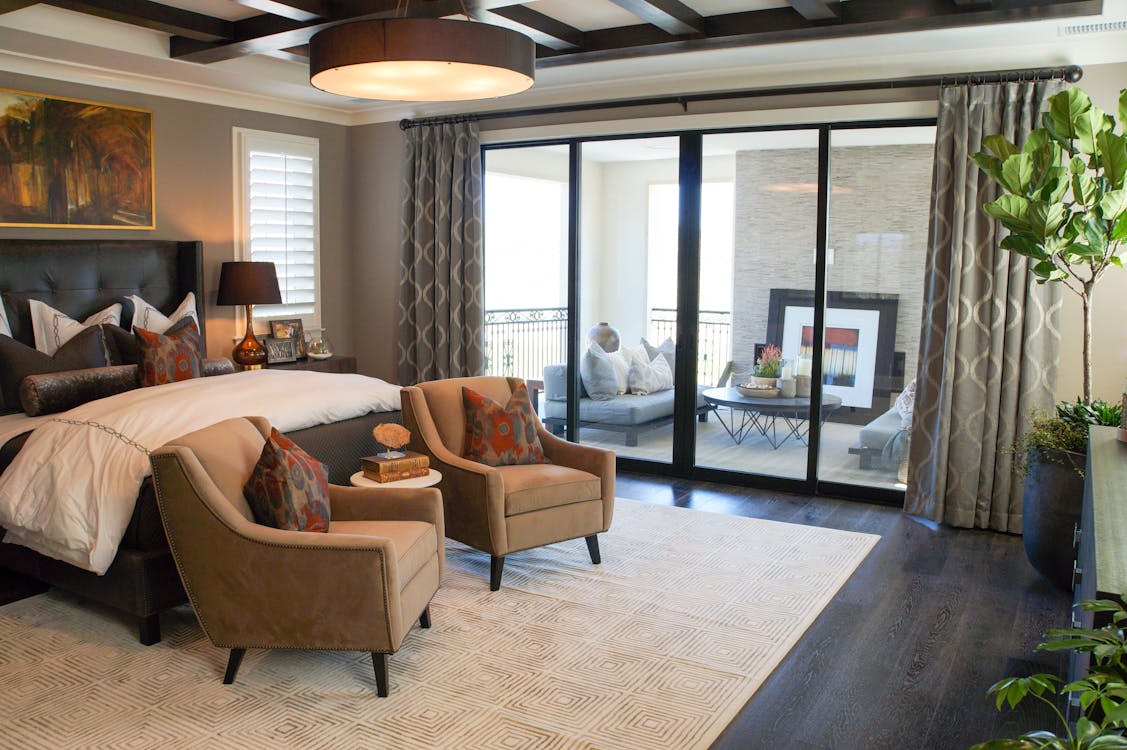 Additionally, instead of by measurement, it can be easier for you to go by the curtain types when you're shopping for it:
Tier curtains – Short curtains that cover just a portion of the window.
Apron curtains – Curtains that hang just below the bottom of the window.
Floor curtains – Curtains that reach down to the floor; look best when paired with a rod that's closer to the ceiling.
Puddle curtains – Curtains that reach down to the floor with some remaining fabric puddling at the bottom. Again, pair these with a higher situated rod.
Choosing the Fabric
Besides achieving the look you want for the windows, choosing the fabric also depends on how you want the light to pass through. Basically, the heavier and thicker fabric will keep the light out more than the lighter and more sheer fabric.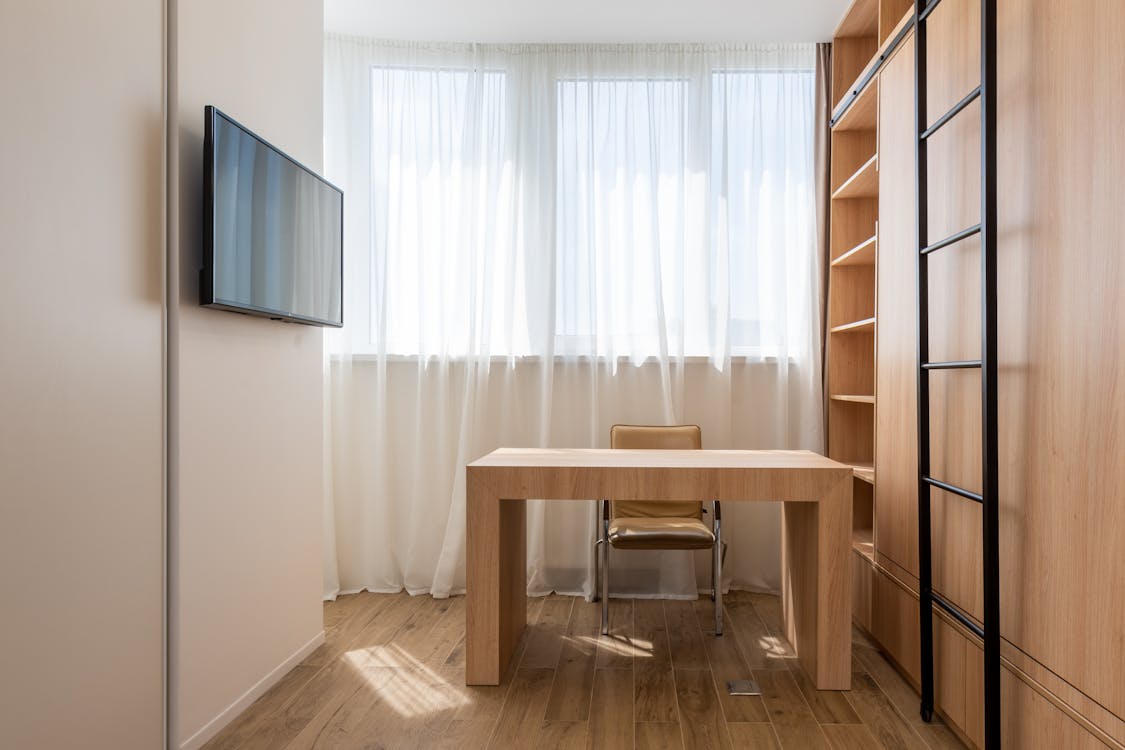 To figure it out, you can as yourself these basic questions: Do you need blackout curtains for the bedroom? Are you looking for your curtains to let natural light through? Do you need privacy from neighbors?
Now these are some quick guides for choosing the right fabric for you:
If you want lots of light to shine through: Go with sheer or cotton fabrics. Even in a range of colors, you'll still get lots of natural light.
If you want moderate amounts of light: Opt for linen curtains, which offer a textured weave that lets in some light but not all.
If you want the light to be all or mostly blocked out: Choose velvet curtains, which are extremely heavy and opaque. Blackout curtains, which feature a special lining that keeps out sunlight entirely, are also an option.
Pick the Hardware
Hardware is including your curtain rod, so you got to choose it right and according to your hanging style. You should choose a curtain rod that is adjustable, and make it 6 to12 inches wider than the window. This will provide some visual interest and will also give you room to move your curtains to the side when you want them open.
Hardware also comes in different styles, from industrial to modern and traditional. You can always add accessories like tiebacks and finials to your curtains to add flair to your window hardware. For the materials, there are brass, brushed nickel, polished nickel, and antique bronze that you can choose from. These materials usually fit every style at home.
Play with Patterns and Colors
Solid linen and velvet are always the time classic in the curtain world. If you want to try another variation, you can always try different patterns and colors. For instance, a soft tone-on-tone stripe or floral pattern can add visual interest and romantic vibes to a sheer curtain. You can also go with a bold pattern, but only if you want this to become the focus of your room.
Moreover, you can also match the wall color. Just keep in mind, that simpler and more seamless is always better when it comes to curtains.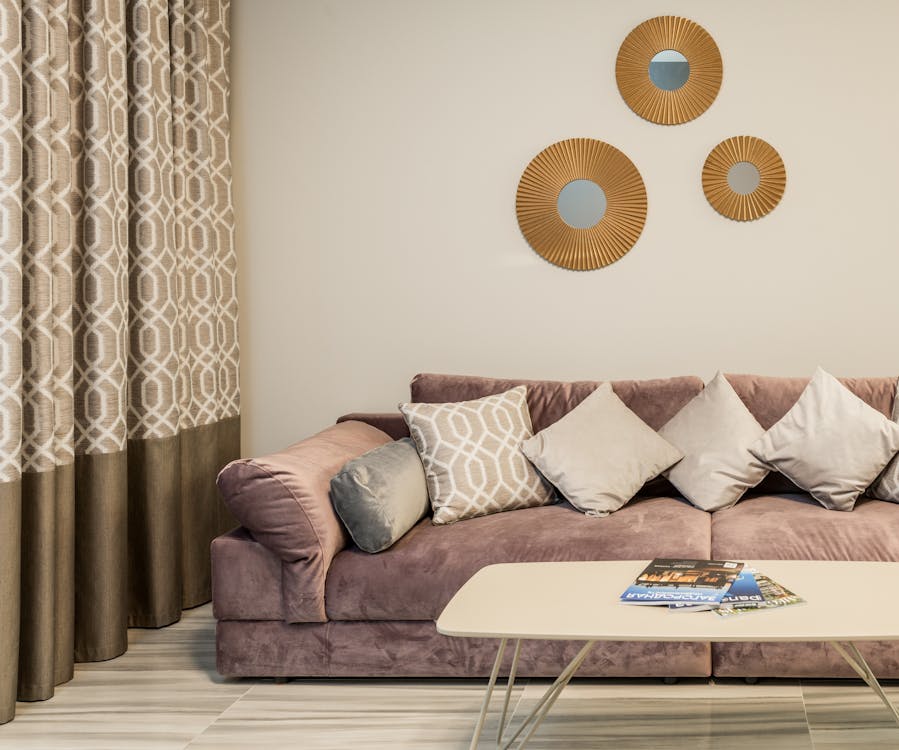 Extra: Characteristics of some fabrics and how to take care of them by Crate&Barel
Cotton: casual, easy to clean, and allow plenty of light to filter through, keeping the room bright and cheerful. For more privacy and temperature control, try a cotton panel that's lined. This fabric is also minimal upkeep: dry clean when necessary, and vacuum and brush attachment dust from accumulating in the folds: and to keep pleats looking crisp, iron curtains inside out on low.
Linen: has a textured weave that beautifully diffuses light, and gives a casual look with linen panels. Care: After dry cleaning linen curtains, hang them immediately for a smooth drape. The relaxed, wrinkled look of linen is part of its inviting character. To remove stubborn wrinkles, slightly dampen the curtain and iron on low. Vacuum with a brush attachment to prevent dust from accumulating in the folds.
Linen-Silk Blend: These light-diffusing curtain panels combine the relaxed nature of linen with the lustrous sheen of silk. Curtains made with silk are more susceptible to damage from sunlight. Choose a drape that's lined if your windows receive direct exposure. Dry clean when necessary, and vacuum with a brush attachment to prevent dust from accumulating in the folds. To keep pleats looking crisp, iron panels inside out on low. Avoid getting water on linen-silk curtains to prevent permanent water spots.
For more inspos about decor and interior, check our other articles here: