If you want to reorganize your bedroom but you have no idea what to start or to do, we got you with these DIY bedroom organizing and storage hacks. This way, you can get a new sense and vibes of your bedroom that makes it fresh to stay in. Especially, in times when you need to be in often, like in this season of the pandemic. Pucker up and organize, get your spark of joy back from your new organized room – or get even more sparks!
Hide the cords
You can't just focus on organizing your clothes, blankets, drawers, or shoes for this one. Sometimes, it's your cords that make your bedroom seem cluttered. With cable clips, you can make the cords less tangled and even make your room less cluttery.
Drawer under the bed
As the bed might take a big space in your room, take advantage of the storage under your bed. You can make it into a drawer and store your stuff there, like shoes, blankets, sheets, towels, and many o' more. You can find under-bed drawers with wheels to make it easier for you to pull it out and in.
If you don't have enough space under your bed but you feel like really want to pull this trick, try to use bed raiser hacks for your bed.
Storage cubes or wheel chart as a nightstand
Nightstand would be nice and useful for you, as you can put your grab-to-go stuff there easily with it being put near to your bed. For a more organized bedroom, try to use storage cubes or rolling charts instead for your nightstand! Not only can you put stuff on its top, but you can also use the cubes or the chart for extra storage for your other stuff, such as books, basket storage, blankets, etc.
DIY charging station from an unused box
You might not want to throw the gift boxes or shoe boxes you've got after seeing this idea.
This way, you can make your table or nightstand less cluttered. You know, sometimes cords can make it look dull and unpleasant. To make it works successfully, add a surge protector inside the box and cut holes for each cord, and your charging station is ready to operate.
Floating bookshelves over your head
Especially for you booklovers, storing your buddy books in your bedroom may be tricky as it could use so much storage. So now, imagine you are lying on your bed right now and look above your head; there's an empty vertical space whose potential you haven't thought of. You can install floating bookshelves there! Take advantage of the upper spaces and save more space below for other stuff. That way, you don't only get your room more organized but also more aesthetic.
If you don't really like the idea of these floating bookshelves, you may also try to store your books in the wheeled drawer under your bed.
High heels rack hacks
Do you have too many shoes – or, to be precise, high heels – that your closet can't store them all? No worries, you can use tension rods of crown molding to trick your shoe storage.
Hanging totes for closet extra storage
Get those utility totes out of your storage and use them as smart extra storage in your closet instead! With this hack, you can also save more space and make for more storage at once for other stuff of yours.
Wall shelving units as a personal wardrobe
If you have wall shelving units in your room, you can turn them into a wardrobe. Hang all the sweaters, dresses and jackets just above the doors. You may also want to add ladders to reach them.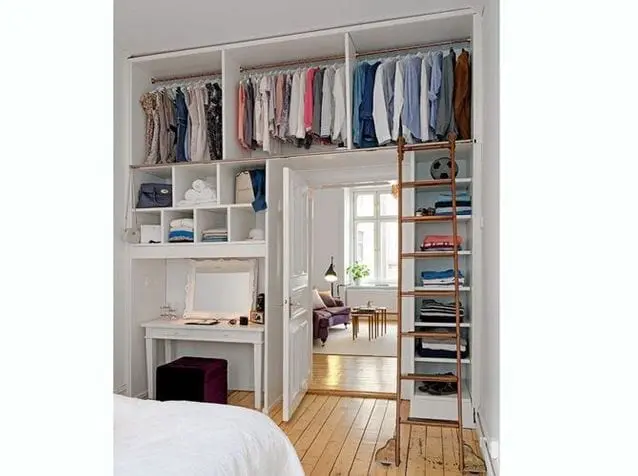 But if you don't have any wall shelves, this could be a sign for you to install one. Isn't it a smart way to use the space on your walls?
Cheap plastic stackable drawers
Another hack for more space and bedroom organization. You can get these plastic stackable drawes everywhere at Amazon or even Target. They would gladly give you more space and storage for your shoes, cardigans, or even undergarments.
Accessory hooks for camis, belts, and scarfs
Save more space in your wardrobe by hanging your clothes, from bras, camis, belts, to scarfs with accessory hooks. Besides giving you extra and organized storage, they also make it easier for you to see and pick your favorite camis or scarfs.
Pegboard for organized accessories
This one will make your accessories organization cuter and neater. Organize them by using the vertical space of the wall. Moreover, it would also be fun to pick and match the pegboard to your bedroom design! Plus, it'd always be easy to change when you decide to makeover your bedroom interior – or whenever you feel like it!
Use them as another hook idea for your camis, tank tops, scarfs, or bags. This one absolutely would make your dresser drawers more organized and spacy.
Floating shelf for minimalist nightstand
Another idea for your DIY organizing nightstand, only it's pretty slender and minimalistic. If you like it lowkey, or really run out of space in your tiny bedroom, try to install a floating shelf or crown molding beside or over your bed. It ain't that big, but it's enough to hold your phone, glasses, and even your favorite bedtime book.
Animal head decor for more accessories
Channel your eccentric soul through this animal head decor. It could be beneficial to store as well as put out your accessories on display in such a stylish way. And don't worry, you can still make it animal cruelty-free decor as you don't really need to use a real animal head. Maybe lookup for the synthetic or made-up decor and organizing with the same shape at any antic shops, and voila.
Door hanging organizer or utility racks
Either you choose the simple fabric hanging storage or the minimalist utility rack to hang on your door, you can get extra storage for more of your stuff and thus get your room more organized and less cluttered. From lighter books, notepads, makeup kits, accessories, to self-care products, they'd be definitely fit into these storages.
References:
27 bedroom hacks that'll make you look like a genious 
20 amazing organization hacks that will transform your bedroom
40 ways to organize small bedroom
Also check out our other articles about home decor and organizing down here: